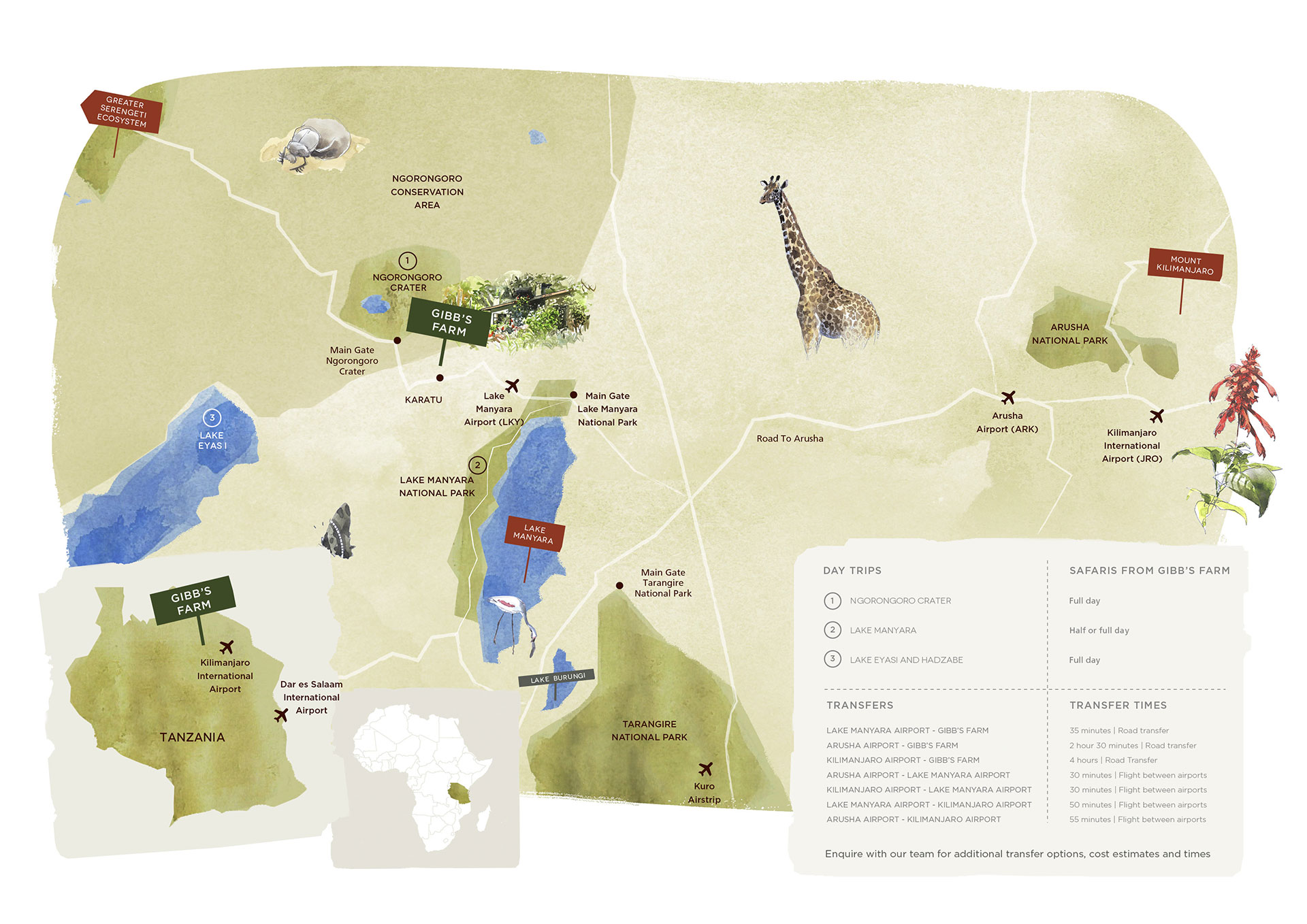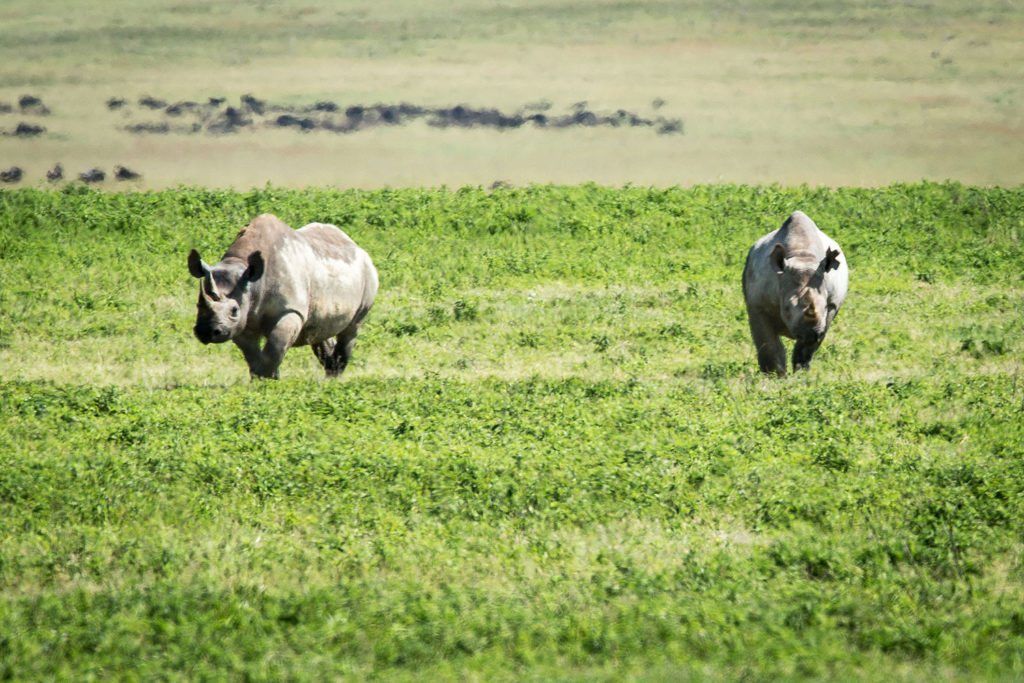 Ngorongoro Crater
Located 56 km, or a two-hour drive, from our front gate, explore this bucket-list safari destination on a full-day excursion. There is an abundance of plant, bird and wildlife for the opportunity to experience this natural marvel first-hand. Uncover just why the Ngorongoro Crater is considered to be among the world's great wonders.
The Crater boasts approximately 25 000 large animals and has one of the densest populations of lions anywhere in Tanzania. You will be collected from the farm early in the morning in closed safari vehicle with a pop-up roof for 360° views.
For the truly adventurous, explore the Conservation Area with a two-hour hike to the Elephant Caves. Discover towering waterfalls and the incredible "elephant caves", created by elephants digging through dense rock with their tusks to ingest the vitamin-rich soil.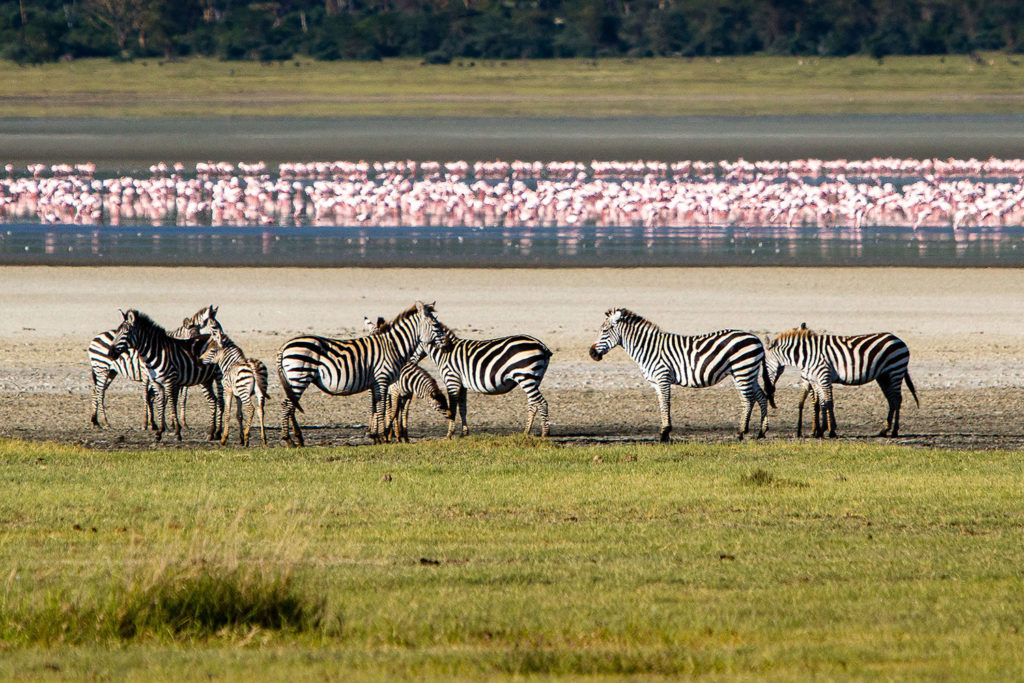 Lake Manyara & Lake Eyasi
Explore not one, but two beautiful lakes and their wildlife-rich national parks close to Gibb's Farm.
Well known for flocks of thousands of flamingos that feed along the edge of the lake in the wet season, Lake Manyara is located just a short 45 min drive from our farm. The close proximity of this renowned wildlife region means you can enjoy a full-day or half-day safari to this bird haven. Did we mention that there are more than 350 bird species have been observed on the lake?
Slightly further afield, and absolutely worth the drive, Lake Eyasi is 1.5 hours away from our gates. A culture-rich experience, spend time with the Hadzabe tribe learning about their history and traditional ways of living. Spend the day exploring the Tanzanian wilderness in search of elephants. Be on the lookout for African spoonbill, flamingoes, great white pelicans and more.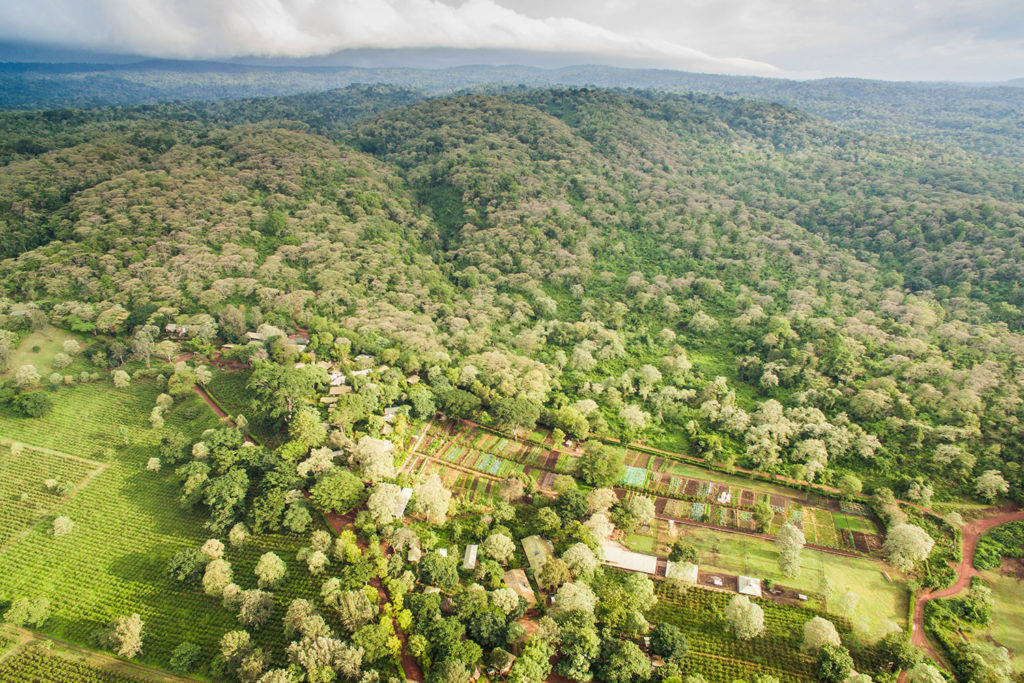 Finding the Farm
We are happy to assist with transfer arrangements for arriving or departing guests. International flights arrive into Kilimanjaro International Airport, Tanzania. You will then need to take a short 45-minute drive to the town of Arusha.
From Arusha, you have a choice of a scenic drive to the farm or, for a faster arrival, we suggest flying from Arusha Airport to Lake Manyara Airport. At Lake Manyara Airport, we will meet you with our private vehicles (we offer free transfers to and from Lake Manyara Airport when staying 2 nights or more).
If you are travelling from the Serengeti, Tarangire or other parts of Tanzania, enquire for the fastest route to Gibb's Farm. We can gladly assist with transfer arrangements for you as well as arranging day trips and other experiences in and around the area. Please do enquire upon booking.

Transfer Rates to Gibb's Farm
We would be delighted to assist with transfers to/from/during your stay at Gibb's Farm.
Rates quoted below are per air-conditioned vehicle (van/landrover), one way for a maximum of 7 guests. Subject to availability and change without notice.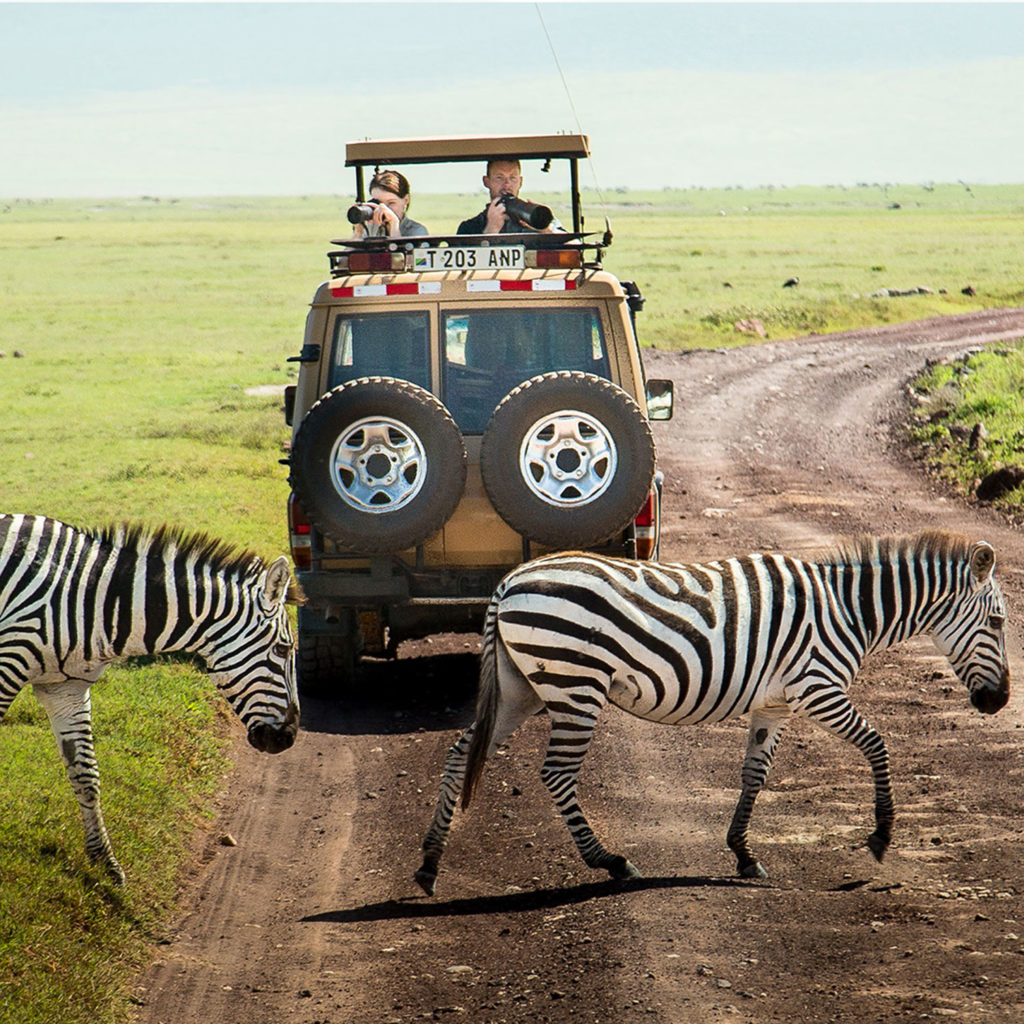 Airports & Airstrips
Lake Manyara Airstrip
35 mins (free for 3 nights+)
US$ 145
Arusha Airport
2 hrs 30 mins
US$ 335
Kilimanjaro Airport
4 hrs
US$ 360
Manyara International Park
Main Gate
45 mins
US$ 160
Tarangire National Park & Other Lodges
Main Gate
2 hrs
US$ 380
Chem Chem Safaris
2 hrs 15 mins
US$ 380
Olivers Camp
3 hrs 30 mins
US$ 380
Ngorongoro Crater Area
Main Gate
30 mins
US$ 160
Ngorongoro Crater Lodge
90 mins
US$ 225
Crater Rim Transfer
60 mins
US$ 225
Ndutu, Lake Eyasi & Serengeti
Ndutu, Lake Eyasi & Serengeti
3 hrs
US$ 460
Lake Eyasi
90 mins
US$ 380
Serengeti Central
4 hrs
US$ 790
Airports & Airstrips
Lake Manyara Airstrip
35 mins (free for 3 nights+)
US$ 145
Arusha Airport
2 hrs 30 mins
US$ 335
Kilimanjaro Airport
4 hrs
US$ 360
Manyara International Park
Main Gate
45 mins
US$ 160
Tarangire National Park & Other Lodges
Main Gate
2 hrs
US$ 380
Chem Chem Safaris
2 hrs 15 mins
US$ 380
Olivers Camp
3 hrs 30 mins
US$ 380
Ngorongoro Crater Area
Main Gate
30 mins
US$ 160
Ngorongoro Crater Lodge
90 mins
US$ 225
Crater Rim Transfer
60 mins
US$ 225
Ndutu, Lake Eyasi & Serengeti
Ndutu, Lake Eyasi & Serengeti
3 hrs
US$ 460
Lake Eyasi
90 mins
US$ 380
Serengeti Central
4 hrs
US$ 790