Our Safari into Northern Serengeti from Gibb's Farm commences with a short scenic flight over the vast plains of the Serengeti and the changing landscapes. From the window seat, we viewed the scar-marked Maasai boma, soared over the mouth of Ol'doinyo lengai (the Mt of God), and landed on the red clay airstrip in the middle of the bush, scattering herds of wildlife to start our adventure.
Our Safari guide, Freddy, met us with the well-equipped and very comfortable Thomson Safaris vehicle and a packed lunch, so we set off to explore straight away. 100's of 1000's of herding wildebeest and zebra spread over the vast grasslands indicated that we had not missed the crossing of the Mara. We spent the afternoon exploring the layout of the land, taking innumerable photos and listening to a plethora of fascinating information from Freddy. What amazing knowledge he has. We were in awe. 
A well-spent afternoon in the dry air and baking sun, taking in the surrounds and getting covered in a fine layer of Serengeti dust, the sun was started to dip as we headed for the campsite. From un-marked tracks in tall grasses, we rounded a bend to see the majesty of the Bedouin village that was to be our base for the next couple of days. WOW. To think that all of this is has to be bought in and then taken back out. Plush rugs, comfortable lounge chairs and couches, cushions and artworks. A very splendid glamping experience.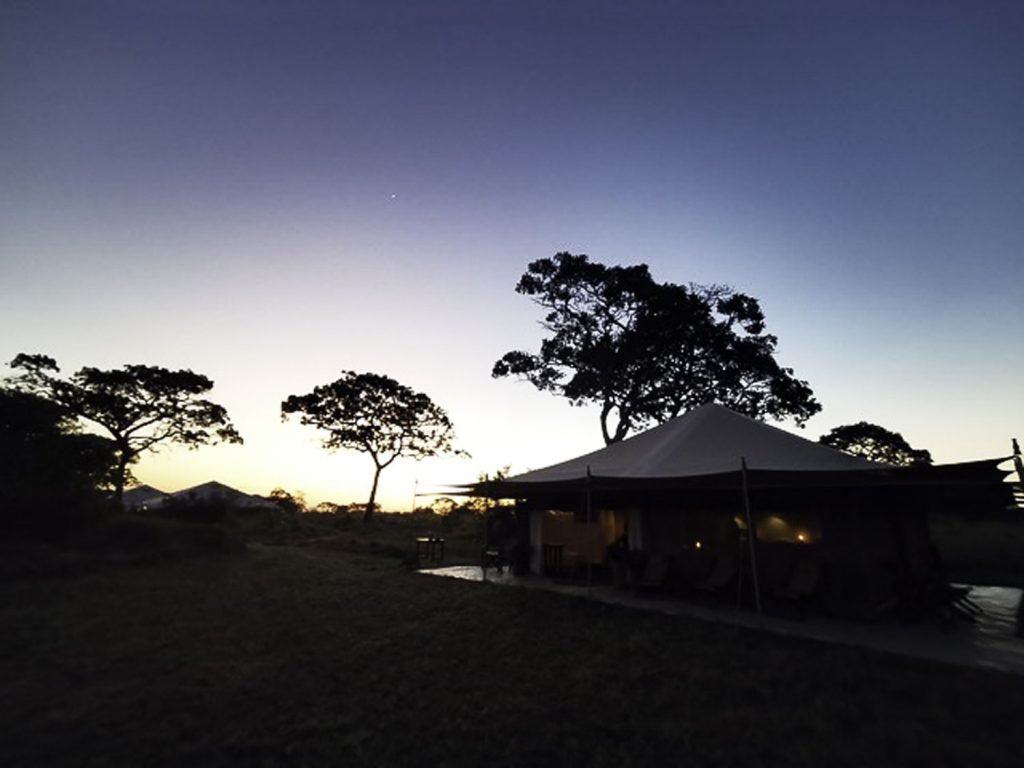 On arrival, we were met by the team with their smiling faces and we were assured of the Covid-19 preparedness and lengths taken to ensure everyone's safety. Luggage was sprayed as were our shoes and lower legs and we sanitised our hands and had temperatures taken. We were then given a briefing which was thorough and the advice that the team had been in the camp for 16 days of quarantine prior to guest arrivals. All very professional.
We were then given an ice-cold beer. Exactly what was required to wash away safari dust. A lovely dinner was served and then we were early to bed. Surprisingly comfortable beds with snuggly warm layers of duvet it was not long before we were fast asleep. There were a couple of times that I was aware of the presence of grazing herd animals outside our tent during the night but not disturbed by it, strangely comforted.
The next day after departing before sunrise we were off on safari and capturing images of more wildlife and landscapes and just being in awe. There was movement in the Wildebeest herds and anticipation as they migrated towards the river's edge. We joined the charge and jostled for a place amongst the 6 vehicles and were able to see the crossing that was exciting, exhilarating, nerve-racking and scary all at the same time. It was a whirlwind of emotions and a great spectacle. I was most pleased that the appetites of the fat Nile crocodiles were well sated and so they were not chasing the wildebeest but took mild curiosity as they continued to sun bask.
After hot showers back at the camp and another great meal accompanied by a nice bottle of Shiraz, we sleep well. We did hear in the early hours of the morning, a lion roar but it was some distance from us.
At dawn, after a breakfast of fresh coffee, pancakes and bacon, we departed with packed lunches for our drive back to Gibb's Farm.
Not far from the campsite we came across a lioness hunting and we stopped to watch the stalk, chase and catch. Pure athleticism of the lioness what a perfect design.
The safari from Northern Serengeti to Ngorongoro took us through varied terrain with a variety of wildlife. From large herds of elephants to a swarm of hippos jostling for position in shrinking water holes. There were 1000's of images taken.
It was lovely to arrive back at Gibb's Farm and check-in for long hot showers to wash away the dust, refreshing beverages served as sundowners whilst watching the sunset over the coffee plantations and deep restful night sleep.
As we download the images we have been reliving all aspects of the great adventure had such an amazing experience. It really was incredible.