This creamy and tasty mushroom risotto is a quick and tasty meal created by Vasti, our head chef! The following recipe makes one portion.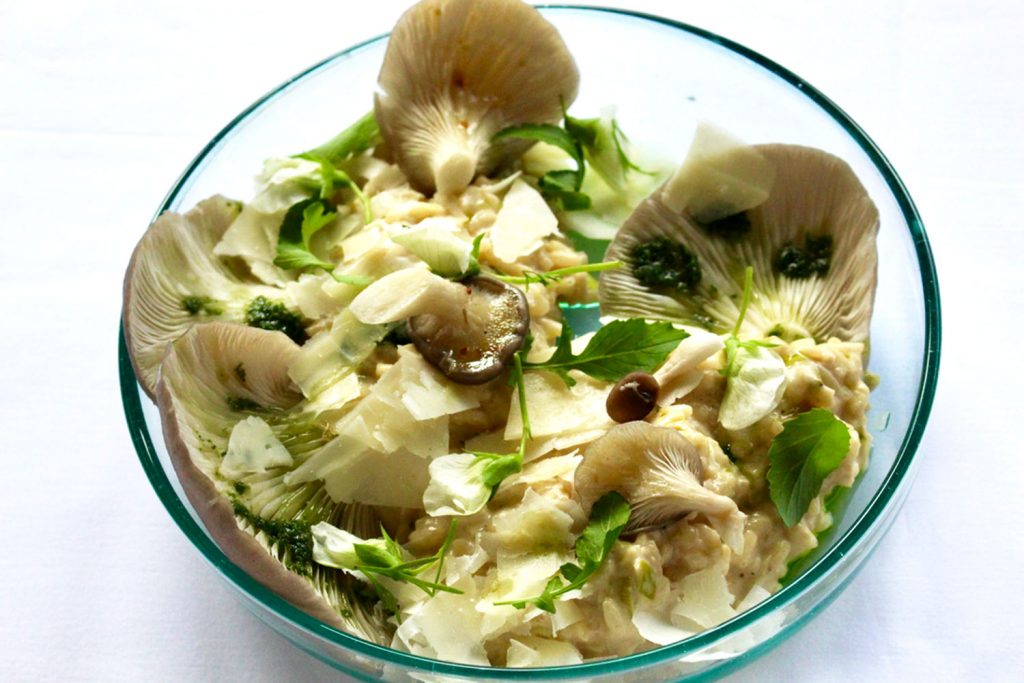 Ingredients
150g Oyster Mushrooms (or fresh mushrooms available)
125ml Vegetable Stock
60ml Olive Oil
45ml Butter
1 small Onion or Leek, finely chopped
2 garlic cloves, finely chopped
60g Risotto Rice (Arborio)
125ml Dry White Wine
200ml Dairy Cream
Salt and Black Pepper to taste
30g Parmesan Cheese and more to garnish
A few drops of Black Truffle Oil to taste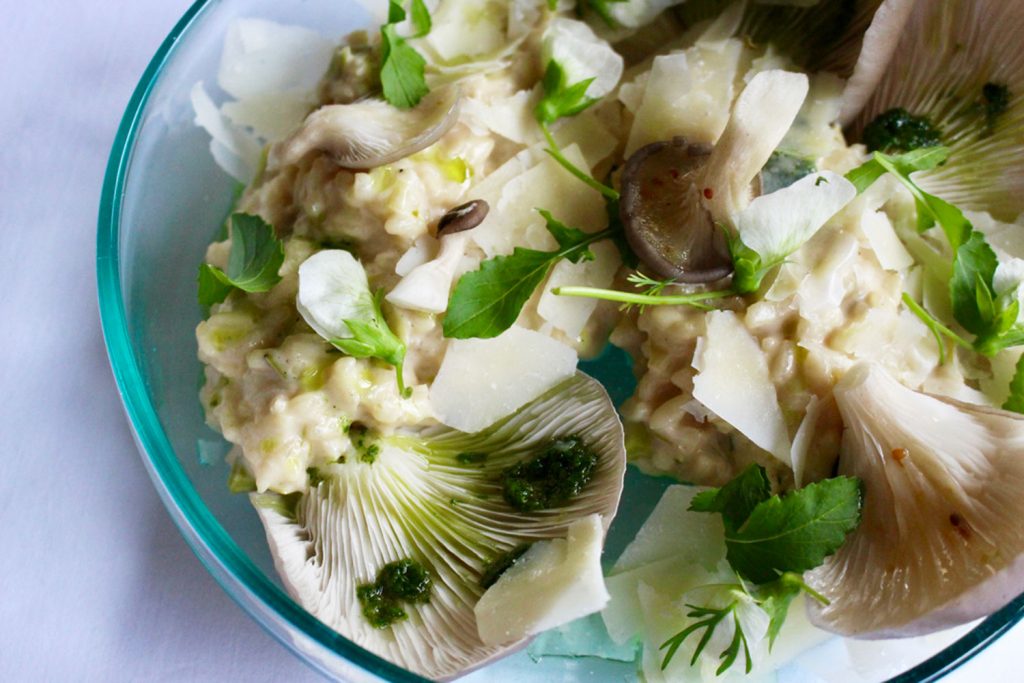 How to make Mushroom Risotto
Select a few mushrooms to use for garnish and set them aside.  Cube or chop the rest of the mushrooms.
Prepare all ingredients before cooking starts and eat risotto as soon as it is ready.
Sauté, over medium heat, the onions, garlic and mushrooms together with the olive oil until the onion is translucent.  The mushroom may absorb a lot of the oil and release some liquid. The mushrooms do not have to be cooked dry. Add a little salt and pepper at this stage.
Add all the butter to melt and then add all the risotto.  Stir-fry the risotto to absorb some of the flavoured juices for 3 minutes.
Add 1-third of all the liquids (stock, wine and cream) and stir until all is absorbed.
Season with salt and pepper to taste.
Repeat adding the liquids in thirds until all the liquid is absorbed, the rice is cooked just cooked (not too soft to break apart) and the mixture resembles a soft porridge. 
Take care not to overcook the risotto.  When the outer part of each granule becomes transparent and the centre of the granules appears white, the risotto is about half cooked.
Stir in a few drops of truffle oil to taste and 30g of parmesan cheese.  Taste to check the salt and pepper seasoning and serve immediately.
Want more inspiration? Find more tasty recipes on our blog.