What is Rhubarb?
Rhubarb looks kind of like celery but with its pink hue, it is much prettier. Rhubarb is a perennial on Gibb's Farm vegetable garden, which means that we have an abundance of it just about all year round.
We use it in juices, chutney, and sweet and savoury dishes.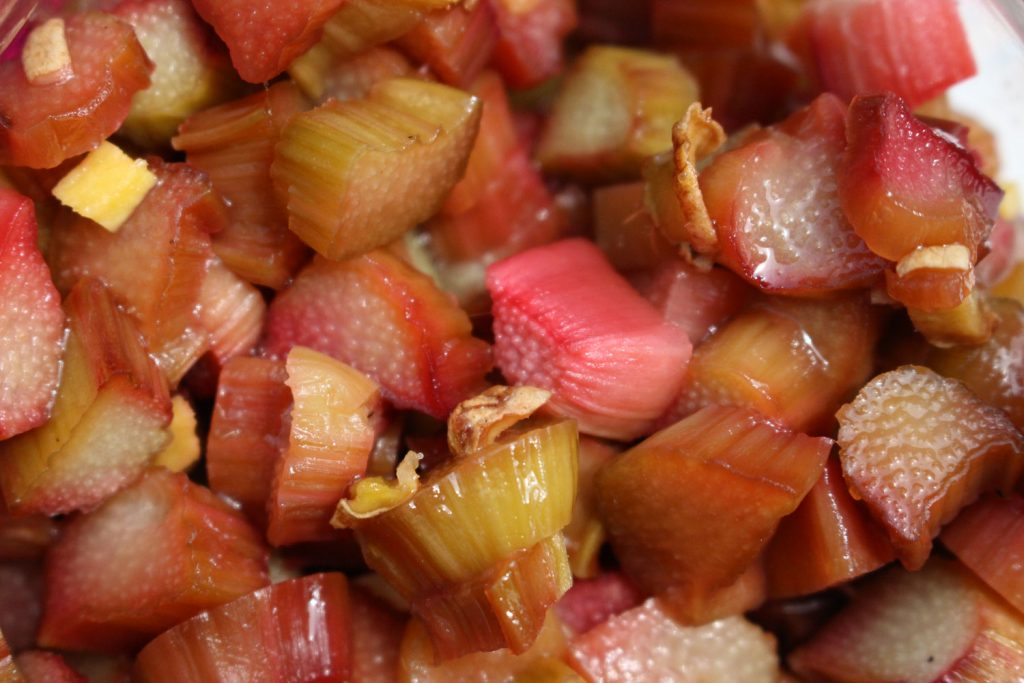 It has been used throughout history for culinary and medicinal purposes. You can eat it raw but the sharp sour taste of it is not that enjoyable for most people. Since the 18th and 19th Century Rhubarb has been used in desserts using sugar to level out the natural tartness.
This Rhubarb Crumble Pie is fast becoming a firm favourite at Gibb's Farm. It is a great dish to complete a dinner party and with the granola topping, we think that it is perfect for breakfast as well!
Rhubarb Crumble Pie
Ingredients:
Crust
120 g unsalted butter, slightly softened
80 g icing sugar
2 medium egg yolks
250 g cake flour, extra for rolling dough
A few spoons of ice water
1 egg, beaten for glazing
Rhubarb Filling
1 kg Rhubarb stems, cleaned and thinly sliced
6 cm piece fresh ginger, peeled and grated
300 g white sugar
Seeds of 1 vanilla bean
Crumble Topping
150 g unsalted butter
100 g cake flour
100 g brown sugar
150 g muesli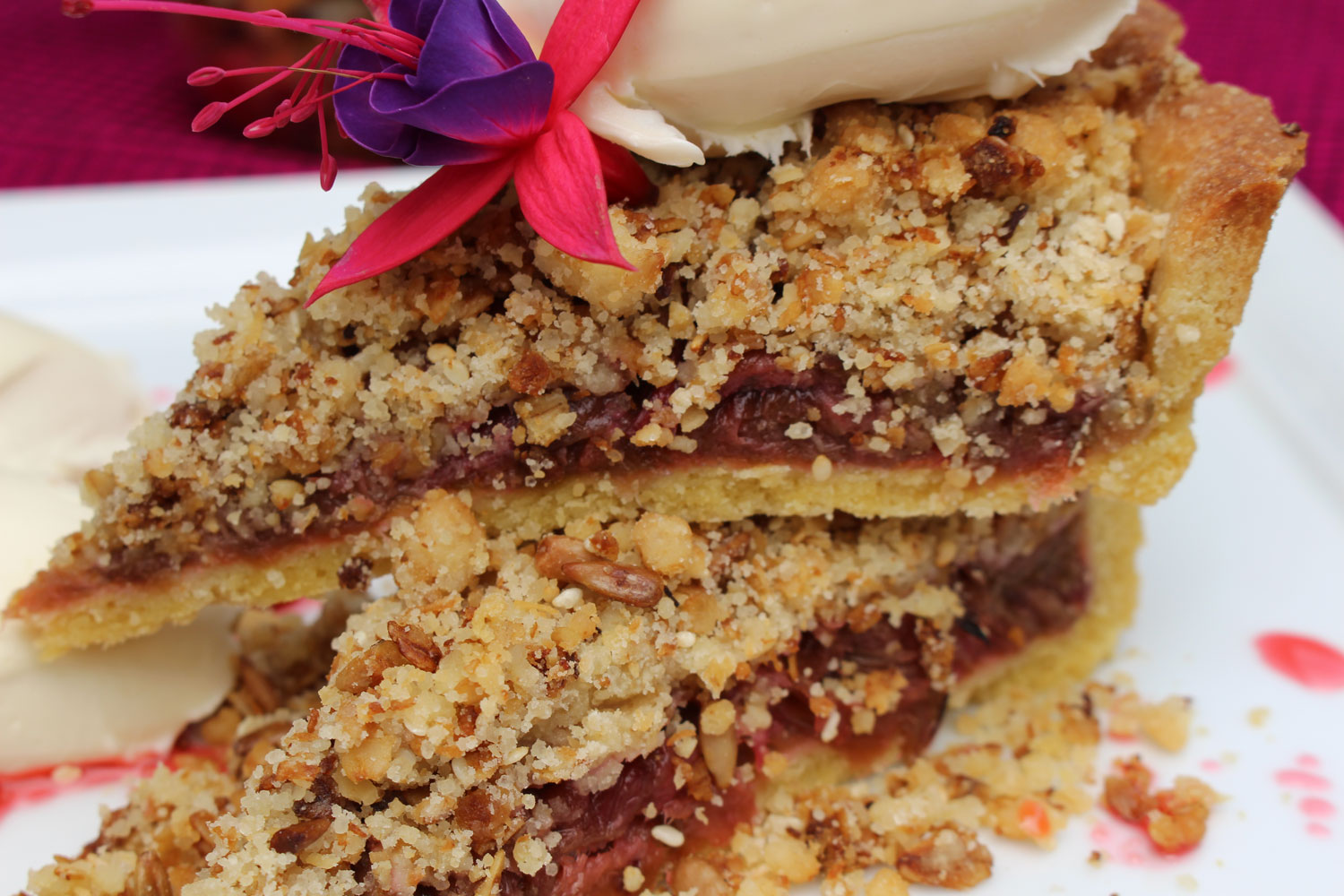 Method:
To make the Crust
Beat butter and sugar until creamy. Beat in the egg yolks. Add in the flour and rub in until the mixture forms a crumbly texture. Add 1 to 2 tablespoons of ice water and press together to form a dough.
Lightly knead to blend the dough but do not over mix. Flatten the dough, wrap with cling film and chill for 30 minutes.
Prepare a 28 cm pie dish with butter or cooking spray. Set the oven to 180 degrees C.
Roll the dough out to fit the pie dish and press down. Release any air pockets that might form. Cut off the excess pastry.
Line the inside of the pastry with baking paper to hang over and fill with blind baking beans or rice.
Bake for 10 to 15 minutes. Remove the baking paper and beans and bake for another 5 minutes.
Brush the inside of the tart case with a thin layer of beaten egg and bake for another minute. Set aside to cool down.
To make the rhubarb filling
Mix all the filling ingredients in an oven tray and set aside for 20 minutes until the juices of the rhubarb are released. Stir well and bake the rhubarb uncovered at 180 degrees C for 20 minutes.
Set aside to cool down. Strain the juices from the baked Rhubarb and pack the rhubarb tightly into the pie crust.
To make the crumble topping
Rub all crumble ingredients together and sprinkle evenly over the Rhubarb Pie. Bake at 180 degrees C until golden brown and crispy. Set aside for 10 minutes before serving.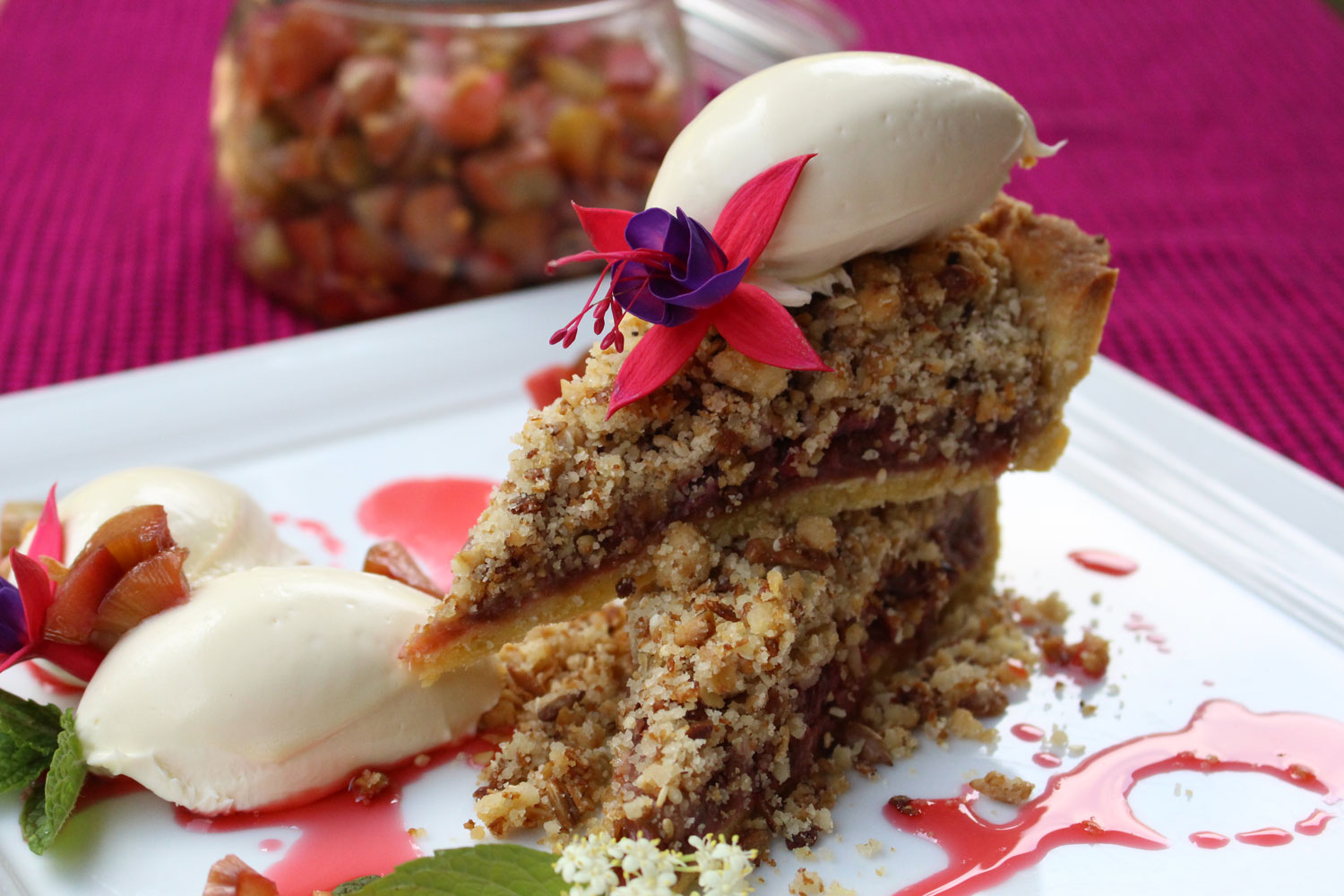 Serving suggestions:
Serve with Whipped Cream, Clotted Cream, Sour Cream, Vanilla Custard or Vanilla Ice Cream.