In November of 1991 I sat with a blonde, tanned, blued eyed, English Dive Instructor, in Moorea French Polynesia and he told me he wanted to climb Kilimanjaro. Would I be interested in doing the climb? How was I to know that 30 years later we would be living in the shadow of Kilimanjaro…
In November of 2019, shortly after arriving in Tanzania, Nick reminded me that I had once agreed to climb Kili and so we started to look into the options. From the research that we did, we decided to book with Nature Discovery. There were a couple of things that stood out for us about their company. The first was their approach to safety. Every climb has a first responder and a full emergency kit complete with oxygen and a defibrillator machine. Another key aspect to us was the ethical care and safety of the porters. Nature Discovery are founding members of the KPAP (Kilimanjaro Porters Assistance Project).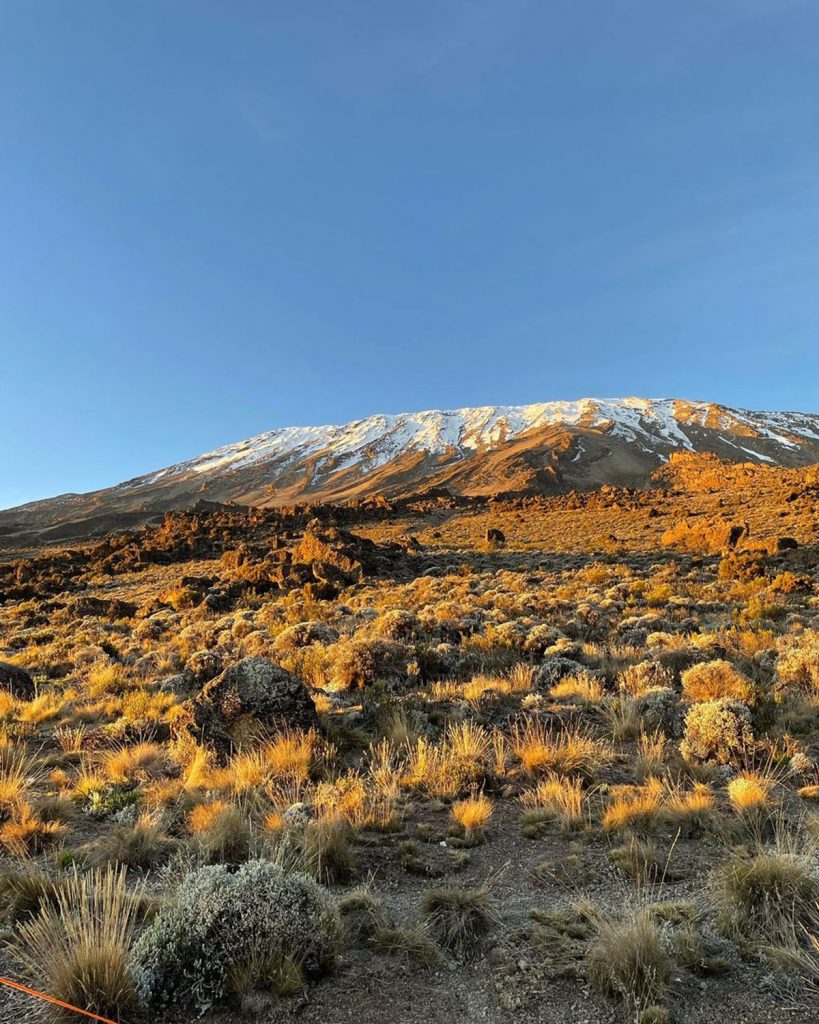 Plans were put on hold due to the pandemic, but we were finally able to lock in dates to climb in February 2022. Living at Gibb's Farm really fuels our sense of adventure and means that we have amazing walking tracks, some altitude, hills and open space to start training and getting reading for the climb. We were out 5 times a week clocking up the mileage and the elevations with weighted backpacks.
Guests at Gibb's Farm who had climbed the mountain gave us heaps of advice, and the one thing they all seemed to agree upon was how necessary it was to have a Positive Mind-Set. Many of the people we spoke to felt that this was even more important than the physical fitness training. Mental attitude.
We were given a lot of information upon confirmation of our trek. This included equipment lists, training advice, clothing and first aid items to pack, as well as general information about the climb. We had been advised to do the Northern Route. It takes longer but allows you to acclimatize better to the altitude. It is not as popular as the other routes and therefore less crowded.
Mount Kilimanjaro
We approached the day feeling both nervous and excited. There were only four of us climbing in the company of 28 porters with our guides and chef. We were met by our head guide the day before the climb was to commence. We were given a full safety brief and he went through our day packs and all of our other equipment to ensure that we had the right gear and clothing to make the climb.
We started from Lemosho on a very clear blue sky day with Mount Kilimanjaro looking majestic. We commenced our climb through a lovely forest with running streams and little waterfalls. The scenery was spectacular and there were no other people in sight. We arrived to find camp all set up with our sleeping tents, dining tents and bathroom tent. The greeting at first camp was amazing as all of the crew greeted us with song.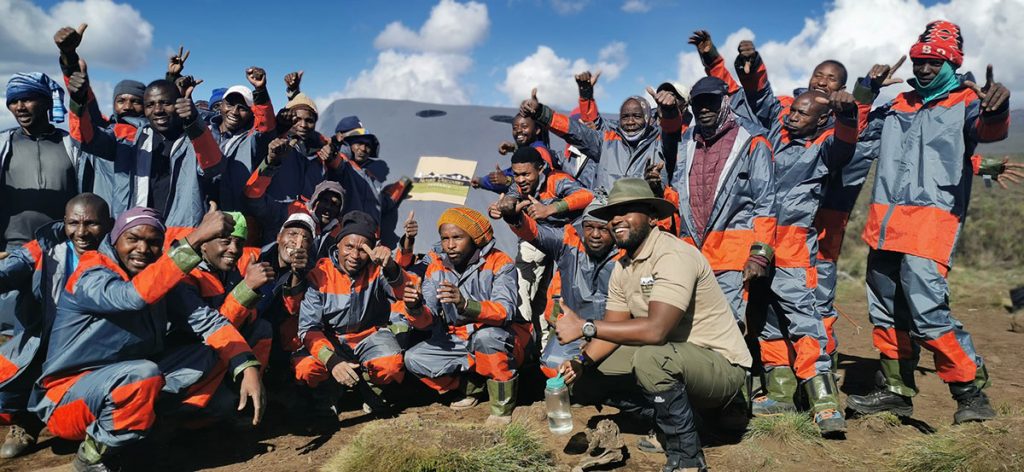 After a fabulous meal, we had a health check which included oxygen levels and blood pressure. A briefing about the next day was followed by an early night and we retired to snuggle in our tent. Early to rise and to see Mt Kilimanjaro silhouetted by the rising sun. Another great meal, loaded up with fresh water, and we set off for day two.
Each day followed a similar pattern. Gentle paced trekking through lovely and ever-changing landscapes. A spike in elevation at some point in the day to test our altitude compatibility, a great lunch, lots of water and then a new campsite each evening. We had most campsites to ourselves, which is the beauty of the Northern Route. We had clear blue skies and sunshine every day and we were able to see the mountain the entire time. The views over Kenya were truly spectacular as well.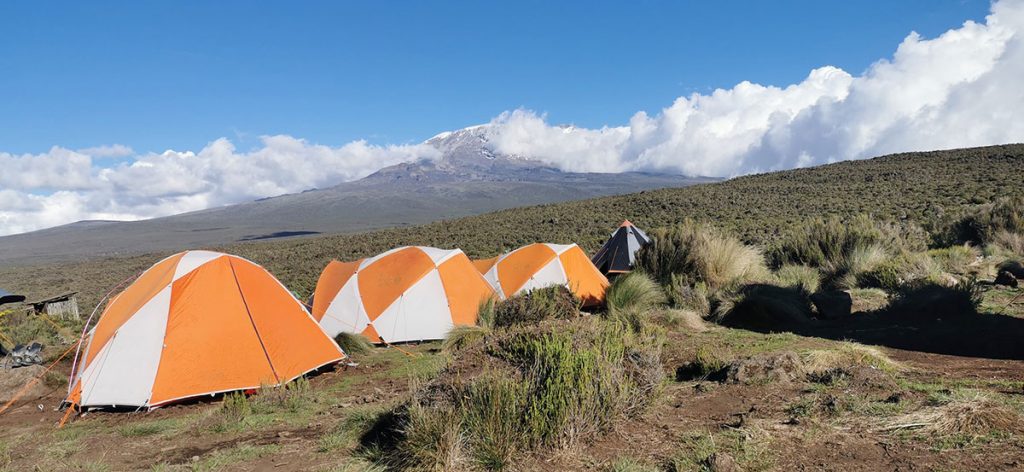 Each evening we would get checked by our head guide for oxygen levels and blood pressure. We were really very reassured by the amount of care towards ensuring we were fit and healthy and showing no symptoms of altitude sickness.
The meals throughout the trek were amazing. Pascal, our chef, was like a magician. It was incredible what he could produce with limited equipment, space and whilst at altitude. The porters were amazing. So friendly and helpful, agile and fast and always with a smile. They would pack up the camp after we left in the morning, then pass us on the treks and we would arrive to find the next campsite set up and ready to welcome us.
Summit Night
I think we were all pretty nervous, but our head guide Polite really reassured us. Just keep walking, just keep sipping, pole pole (slowly) and we will get there. Starting at midnight, layered up in 6 layers of clothing, headlamps on, we commenced the ascent.
The night was still with a million stars and then our guides and porters started to sing. It was the most incredible sound as their harmonious voices filled the night and we slowly walked to the rhythm of their songs. The next thing we knew we were at Gilberts Point, on the rim of the crater. The sun was coming up and we were so high that the horizon was convex. The snow-filled crater bowl glistened in the rising sun, and we could see our end goal.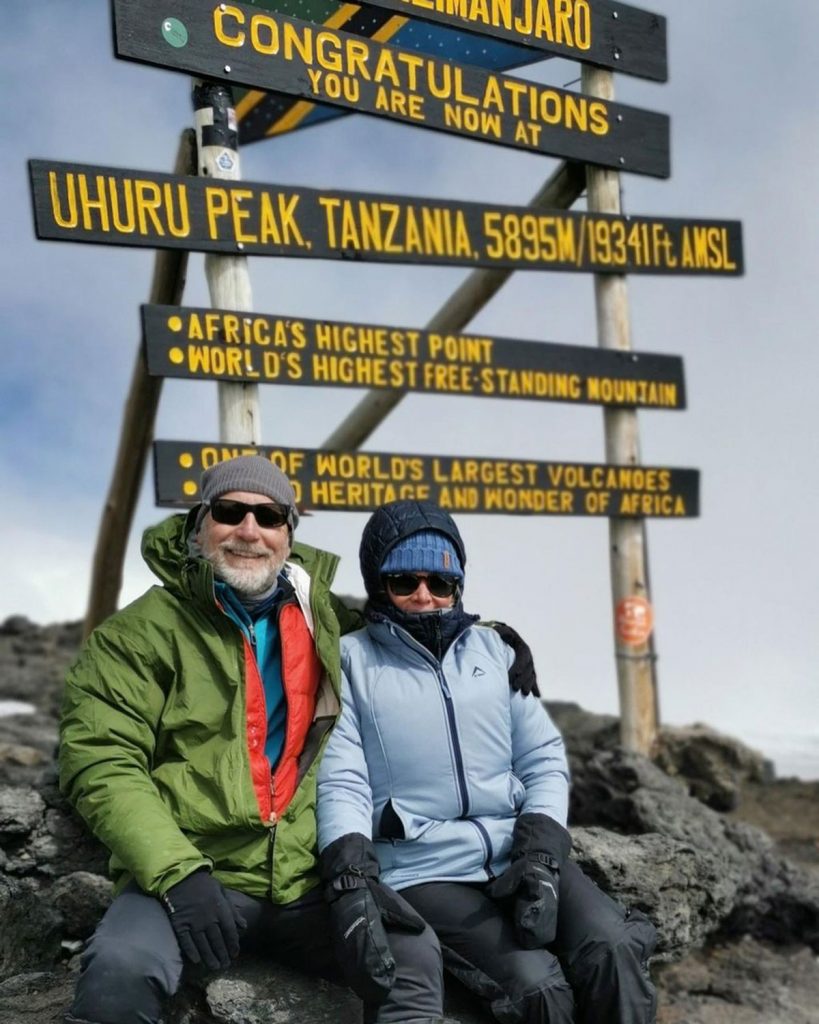 We managed to summit to Uhuru Peak, take the photos to prove it and then quite quickly commenced the descent as the winds picked up. The trip down was fast and a good workout for the thighs! We had one last night on the mountain before completing the descent in the morning of our 8th day. We were elated that we had made it, but still, a little shellshocked, I think.
Arriving back at Arusha, the hot shower was so welcomed. I don't think I have ever enjoyed a shower so much! Quickly followed by a bottle of Champagne to toast our success!
It was an amazing experience. Days after, we reflected more and more on the experience and just how incredible it was. Mount Kilimanjaro is still a pristine national park with diverse landscapes, flora and fauna. The personal challenge of the climb was indeed as much physical as it was mental. The disconnect from electronic devices and the connection with yourself, companions and nature make this a very special experience.